Updated 16th November 2020.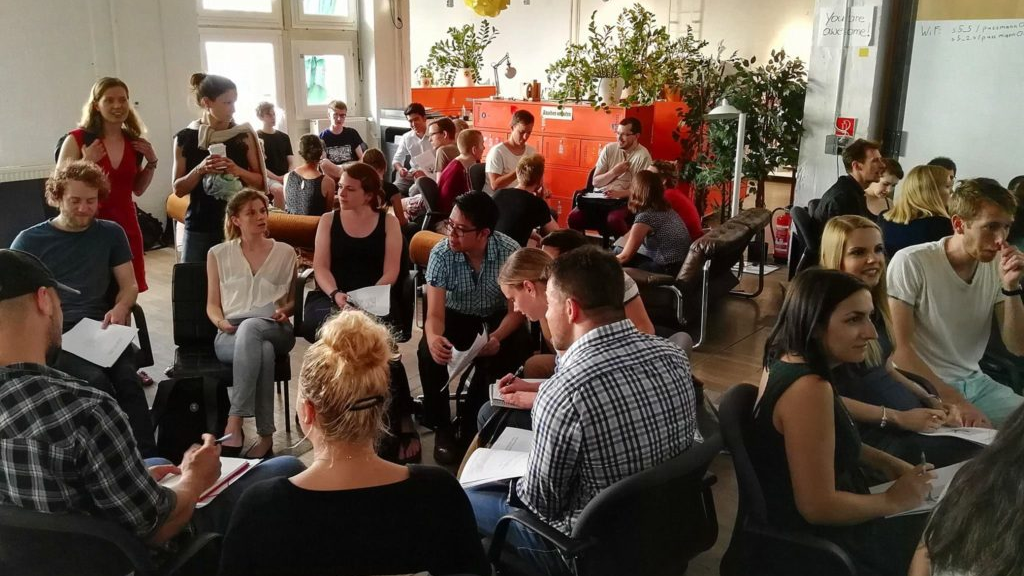 Image: EAF
These pages are a work in progress. We will be adding many more resources for running events in the coming months. If your group has materials and ideas to share, please add them to this google drive.
This document has ideas and tips on running online events.
This spreadsheet contains a list of event types containing information on event characteristics, preparation, ideal audiences, group types and required skills and resources.
This page has information on how to plan events, and tips to ensure your event goes well.
Ideas and considerations when choosing a venue for your event.
Tips on event catering.
Discussion groups are the most common event that EA groups run. They involve people reading, viewing or listening to content - then discussing! This page includes plenty of suggested content with questions to get the discussion going, and tips on facilitating an interesting and positive discussion.
These workshops and presentations are designed for audiences that are unfamiliar with effective altruism. They could be used for newcomers events, or for presenting to non-EA groups.
A variety of ideas and resources for running structured and unstructured social get-togethers.
Speaker events involve a guest speaker giving a presentation, workshop, Q&A, or panel discussion. This guide will help you invite and prepare for speaker events.
Intermediate Workshops - Coming Soon
These workshops are designed for audiences that are familiar with effective altruism, but haven't necessarily read a lot about EA concepts and cause areas.
The clubs fair (otherwise known as Freshers' Fair, Activities' Fair or Orientation) is the annual or bi-annual student extracurricular fair most Universities host at the beginning of the term. This is an excellent opportunity to find new people (especially first-years) to get involved in your EA group.
EA fellowships involve a small group of admitted fellows gaining a complete education in introductory EA concepts over the course of several weeks. This page is a guide for uni groups running fellowships.
This page covers ways Effective Altruism Groups can promote the ideas of effective giving and Giving What We Can pledges.
Retreats involve community members gathering for two or more days, usually out of the city. The activities vary from social activities, career planning, intensive workshops, and working on projects.
---
Can't find what you are looking for? Many more resources are available in this spreadsheet, and feel free to contact the Resources Team and we will try to find resources to suit your needs.
---
If you have suggestions on how to improve this page, please comment or suggest edits on this google doc.
---